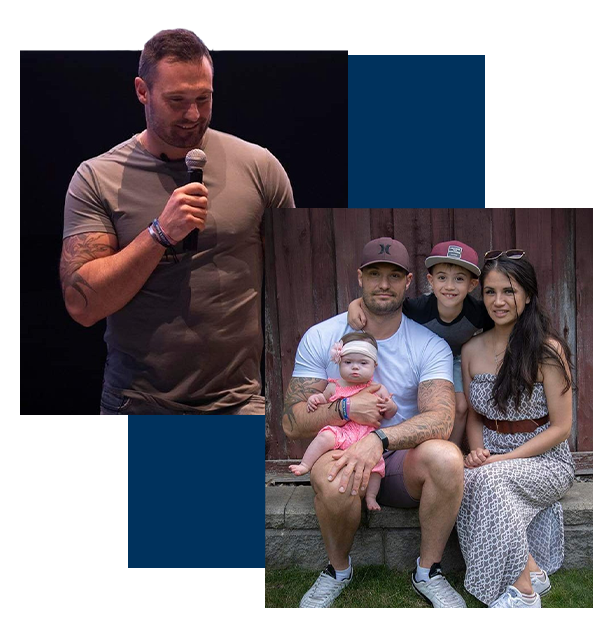 My name is Justin Brien and I am a Mental Health Advocate / Inspirational Speaker and Life Coach working in Salmon Arm BC. For over half of my lifetime, I have been riddled with an endless cycle of substance abuse stemming from my mental health. I have battled dark nights filled with loneliness and doubt, questioning whether or not I would make it to see my son graduate, ride a bike, or even through the night. It was during this time by my own sheer mental determination and ultimately my will to live and succeed I decided to find my "why" in life.
With that thought, I took my last breath in my old negative and recycled ways and looked to a new future through a better understanding of myself.  By asking and finally accepting the help I asked for I could truly start to make the necessary changes I needed to make in my life to eliminate my substance abuse issues and make my mental health stronger.
Now in my new life with my son, daughter and their mother by my side I am able to show them we are enough, each of us, and that we matter. We are not alone. There is a magic in each and every one of us and through the power of sharing my story, my experience and passing on my knowledge to others in support and understanding of what they are going through I am able to help defeat the stigma around mental health.
With my life long experience dealing with these important personal issues, I aim to bring awareness to others who don't understand and bring hope to those who desperately need it. They matter. You matter.
Let's work to move this message to the people who need it most.
Follow Justin
CHASING SHADOWS:
FIGHTING THE MONSTERS WITHIN
This compelling book is not just about the struggles we face. Explosively explores the struggles around mental health, the demons of drug use, and the terrifying embrace of suicidal tendencies.
Prepare to be swept away on an exhilarating odyssey, as you delve into the depths of one man's quest for inner peace amidst the shadows of a desolate path as he confronts his own mental health demons and grapples with the alluring temptations of substance abuse.
This literary piece of work is not merely a collection of words; it is a profound guide that will empower you to confront your own mental health challenges. Within its pages, you will discover a wealth of strategies, empowering you to cope with adversity, embrace your vulnerabilities, and embark on a transformative path towards becoming the strongest version of yourself.
Dive into this amazing chronicle, a testament to the resilience of the human spirit. It is a cry for those seeking comfort, healing, and restoration of life. It's time to break free from the bondage of despair and discover the extraordinary power that lies within you.
Buy Now